Since its official opening in May 2018, the teahouse has gradually become a place where citizen spontaneously hold cultural activities, such as folk tea competition at Dragon Boat Festival and public watching event of World Cup. Reflecting the Anji bamboo culture, the tea house has brought vitality to this office campus, and makes contributions to the public life in its community.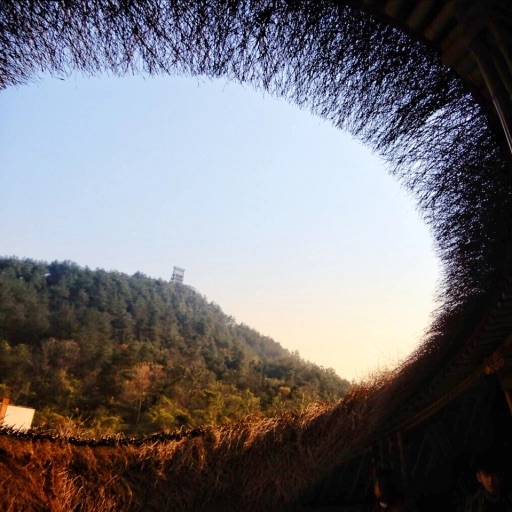 bamboo teahouse Anji 2017 Bamboo Construction Competition 1st Prize


with Lei Bowen, Song Tianyi, Sun Zhaoren, Instructor Zhu Ning


Anji is a suburban town in Zhejiang Province that is famous for its bamboo industry. The teahouse is located in a newly developed office campus in Anji, which shared a typical "dead" image with no public space and no life at night. The bamboo construction company located inside the campus held a big bamboo comstruction competition in order to exhibit its bamboo comstruction ability. The teahouse is located right at the front terrace of the company, and thus, it is expected to be a strong advertisement for the them. Starting from this context, we see the opportunity to provide an expressive structure for the company, and at the same time an open public space for the whole campus.

The teahouse aims to enhance the natural landscape of the Phoenix Mountain by creating a round hole in the roof, and covering up the nearby office buildings while introduceing wind and light through it. The large-span bamboo structure cconstructs a resting space closely related to the body, and a leisurely atmosphere of drinking tea.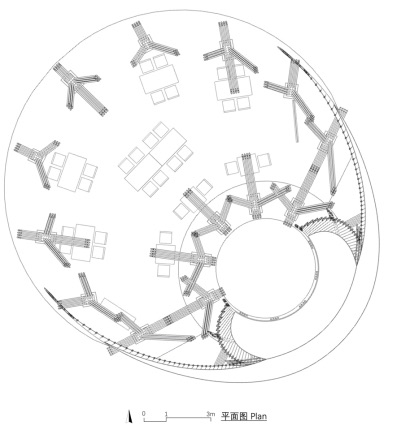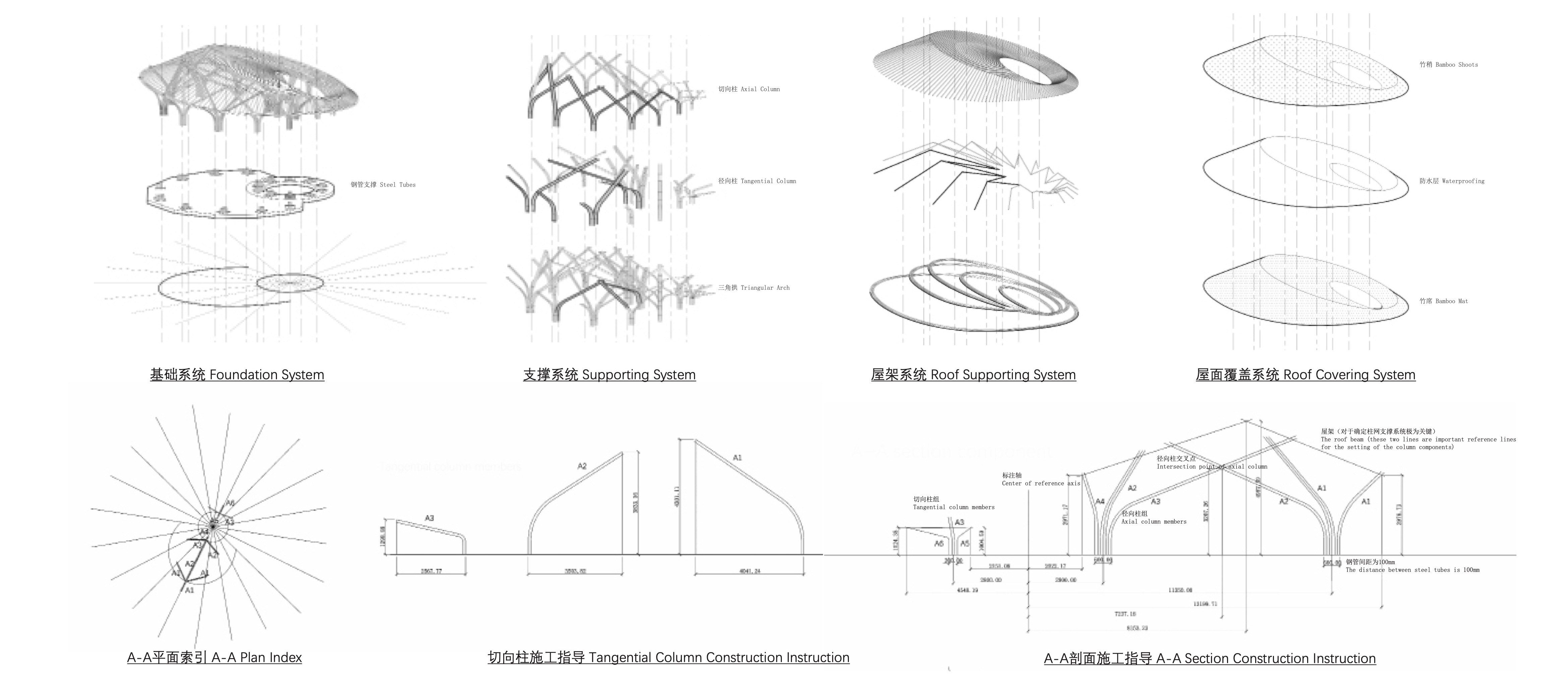 In the first stage of the construction process, the team went to the side and made a scaled bamboo model, to clarify the whole design to the workers. We created a column sample with the help of the workers. Then the workers finish all the construction work by hand. There are 1m*1m steel plates casted in the concrete base and steel pipes are welded on the plates in 5*4 and 7*4 grid in 10cm intervals, which connect bamboo columns and the base. The inclined beams connect ring beams and columns. Column and beams are composed of several bamboos which are joined by bolts and fixed by hemp ropes. In the connection of bamboos, we use steam nails as rigid joint and hemp rope as flexible joints.



Since its official opening in May 2018, the tea house has gradually become a place where citizens spontaneously hold cultural activities, such as folk tea competition at Dragon Boat Festival and free viewing event of World Cup. The tea house also received many donated books from various public and organized cultural promotion salons. On an ordinary day, it provides people with a quiet and relaxing place to drink tea. Reflecting the Anji bamboo culture, the tea house has brought vitality to this office campus, and makes contributions to the public life in its community.


Location : Anji, Zhejiang, China
Year : Competition winner 2017, Construction 2017-2018
Investment & Operation : Anji Zhujing Bamboo Technology Limited
Architecture Design : Zhaoren Sun, Tianyi Song, Bowen Lei, Qianer Zhu
Light Design : Prof. Xin Zhang
Area & : 195 m²
Budget: 500,000 RMB (6,400 EURO)

Lei Bowen, Song Tianyi, Sun Zhaoren, Qianer Zhu © 2017